1 bedroom apartment with sea view and terrace, south of Portugal
---
Bedrooms

1

Bathrooms

1

Gross surface

84 m²

Floor

3

Energy

D
Amenities
Balcony

Terrace

Ocean views

Ocean views
Superb 1 bedroom apartment, recently renovated, located on the top floor, ideally located in the heart of the charming seaside resort of Luz (Lagos) close to shops, restaurants and beaches.
Composed of a beautiful equipped kitchen and a spacious and bright living room, both extended by beautiful terraces that allow you to enjoy the mild Algarve climate with breathtaking sea and mountain views.
Property
Reference :

141 02 47

Property type :

flat

Style :
Property condition :

In good condition

Bedrooms :

1

Bathroom :

1

Total surface :

84 m²

Living area :

59 m²

Floor number :

3

Floor :

Top floor

Sun exposure :
Price :

Sold
Property information
---
Fully equipped kitchen

Furnished

Storage Space
Building condition :

In good condition

Facade of the building :

In good condition

Structure :

Concrete structure
Common areas :

In good condition
---
Neighbourhood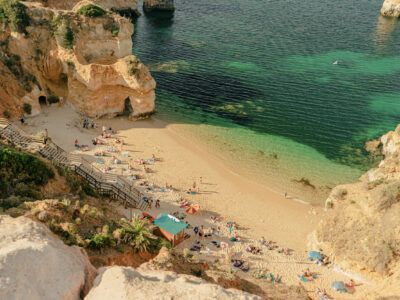 District : Algarve
Municipality : Lagos
Parish : Luz


The neighbourhood's strengths : Quiet place, Shops, Beach, Historical centre, City centre

Despite a rather dark history, Lagos is an extraordinary city in western Algarve. It was once the centre of Europe's slave market. Indeed, the first European market of this kind took place in this city in 1444. The slaves were brought back from North Africa and sold at the market, under the arcades of the former city Customs building. The building now houses an art gallery.

Lagos is a fantastic choice of city to become an owner.
Lagos is actually a city for people of all ages. It developed a very tasteful tourist offer while keeping its historical charm.
The city centre of Lagos, with its cosmopolitan atmosphere, elegant shops, terraces, magnificent beaches and cobbled streets, is one of the most popular tourist destinations in the Algarve and one of the most visited cities in this region and Portugal. Indeed, in 2012 Lagos came to the top of the TripAdvisor travel site's ranking of "15 world tourist destinations on the rise".
This city has a maritime history dating more than 2000 years. Old Lagos is surrounded by walls that were built in the 16th century. Near Batata beach, Ponta da Bandeira Fort is part of the 17th-century fortifications built to protect the city. Extra-muros stands the oldest church in the Algarve, the church of São João Batista, built-in 1174.

In Lagos and its surroundings, you will find old rural houses and luxurious villas with large swimming pools, not to mention magnificent modern apartments close to the beach, restaurants, shops and other amenities and services. Lagos also offers many buildings and properties for sale for commercial purposes.

If you want to enjoy the best of both worlds – a quiet and secluded location, a short drive from the hustle and bustle of Lagos and the sublime beaches of the coast – you should look among the many properties for sale in the villages to the east of the town, such as Odiáxere and Monte de Funchal.